Belgians Edit
"Eendracht maakt macht!" Edit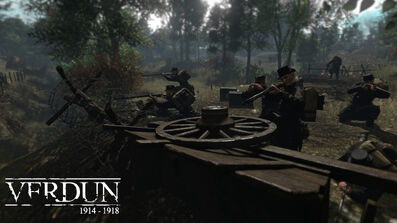 "Facing overwhelming odds, the Belgians gained a reputation for fierce and rugged defensive capabilities. Fighting in their own sectors and with the support of heavy siege weapons they can put up an excellent fight."
- In-game Description
Belgians Setup
Edit
Squad Info: Edit
Squad Type: Sentry
The Belgians are an Entente sentry squad added to Verdun in the Horrors of War free expansion, along with two US and two German squads.
The Belgians are equipped much like a regular frontline mortar squad - they have an NCO, a marksmen, a machinegunner and a grenadier. They use Browning weapons (manufactured in Belgium), Mauser weapons from Germany, and borrowed French weapons like the Chautchat. Besides their Browning weapons, one of the only other items of note for the Belgians is their use of body armour, which adds extra hitpoints to the character, meaning one or two more shots are needed to take them down.
The Belgian uniforms start as dapper top-hats and coats, but later become brown with body armour.
Squad Roles
Edit
Korporaal: Edit
The role of the 'Korporaal' in the sentry section is to hold a line at all cost.
Motto: "Hold the line"
Specializations: Edit
Kadet - Standard Edit
Loadout:
Loopgraaf Officier - Level II Edit
Loadout:
Veteraan - Level III Edit
Loadout:
Gew. 89 + Seitengewehr
Binocs
Schildwacht: Edit

The Sentry is a hardened defender who dominates the nomansland with long range fire.
Motto: "Use the flanks"
Specializations: Edit
Scherpschutter - Standard Edit
Loadout:
Gew. 89 + Seitengewehr
Binocs
Pion - Level II Edit
Loadout:
Karabinier - Level III Edit
Loadout:
Schutter: Edit

The static Gunner defends his position with a range of Machine guns.
Motto: "Let none pass"
Specializations: Edit
Wacht - Standard Edit
Loadout:
Vuurkracht Ondersteuning - Level II Edit
Loadout:
Mitrailleur - Level III Edit
Loadout:
The 'Renner' is a sentry whose task is to move along the trench and defend weak spots.
Motto: "Plug the gaps"
Specialization: Edit
Verbinder - Standard
Loadout:
Verdediger - Level II Edit
Loadout:
Afweerder - Level III Edit
Loadout:
Belgians: Abilities & Progression
Edit
| lvl | Shared | Korporaal | Schildwacht | Schutter | Renner |
| --- | --- | --- | --- | --- | --- |
| 0 | | | | | |
| 2 | | | | | |
| 10 | | | | | |
| 20 | | | | | |
| 25 | | | | | |
| 33 | | | | | |
| 40 | | | | | |
| 41 | | | | | |
| 45 | | | | | |
| 50 | | | | | |
| 60 | | | | | |
| 69 | | | | | |
| 70 | | | | | |
| 80 | | | | | |
| 100 | | | | | |
Belgium was the first Western European country to be invaded in WWI, by the Germans in 1914 - they did so believing it would be a fast and effective route to attack France, as the French-German border in Alscace was heavily fortified and guarded. However, the Germans did not count on the heavy resistance of the small and poorly equipped Belgian Army, who stoutly guarded their fortresses as they one-by-one fell to the Germans.
Most of the country was quickly over-run however, and the Belgians retreated to the many rivers and canals of Flanders. The violation of neutral Belgium, whom the world powers had agreed collectively to protect against any aggressors (Treaty of London), brought Great Britain into the war on the side of the Entente. Entente propaganda inspired men all over the world to volunteer in the thousands, even from as far away as South Africa, New Zealand and Australia.
King Albert of Belgium bravely led his troops as they defended the last corners of Flanders, holding the coastline so as to keep British shipping safe and capable of aiding their mainland allies. It was the Belgians who decided to flood many of the newly formed battlefields - much of Belgium is below sea level, and the ditches and dams were broken so as to hold the Germans at bay. This worked to some degree, but it also turned the green fields of Flanders into a muddy hell for those who fought there in later years.
Features
Edit
The Belgian squad NCO has the ability to call in the heavy mortar strike, which is a single blast from an off-screen seige gun - it does incredible damage, and when used by a top-tier squad its area of effect is enough that you'd want to get very well away. It's hampered though by its long recharge time - it is somewhere between that of the mortar and gas. They spawn on each other like a regular frontline squad would, and their command aura gives a defensive bonus.
It is interesting to note that these Belgians speak Flemish (Belgian Dutch) - Belgium is split between Flemish-speaking Flanders and French-speaking Wallonia. The developers of Verdun could easily have simply reused the French voices already recorded, but didn't - perhaps because Flanders, where the Flemish live, is both a map in game, and where the Belgian Army made its last stand.
Ad blocker interference detected!
Wikia is a free-to-use site that makes money from advertising. We have a modified experience for viewers using ad blockers

Wikia is not accessible if you've made further modifications. Remove the custom ad blocker rule(s) and the page will load as expected.